So – now that I have my wireless dongle working I figured I'd give a media server a bash again. I picked Raspbmc as I felt this was a little more dedicated to the Pi, but I think OpenELEC would be a pretty strong contender too, so will give it a go some time.
EDIT 23/03/2013: While I initially had some issues when first installed Raspbmc RC5 (I had to dig around a bit, but the guys over at Raspbmc have got a great forum and I was up and running within a few hours), these are no longer present on the new version.  I've therefore updated this post to focus on the new version – if you need more information on what problems I had and how I resolved them, let me know.
So – high-level overview? Very nice UI, responsive, feature-rich. It scanned my Movie, TV & Music shares without any issue and I have a nice remote running on my Android phone. This is all a BIG step up from my previous PS3/MediaTomb solution!
Pre-requisites
First thing I should point out is that I'm not going to write this as a complete beginners guide, covering old ground. If you're taking this on as a project I'll assume that you've got a basic working knowledge of your Pi. If you think this is a bit advanced I'd suggest running through some earlier posts first.
First off, you'll need to know how to apply an image to your card – take a look here. For this project I used the Standalone image – RC5 of Raspbmc. Available from the Raspbmc Downloads page. Alternatively you could use the installers produced by the guys at Raspbmc – they work very well!! Just be aware that I've only tried the manual image approach.
EDIT 23/03/2013: No requirement for SSH via Putty anymore.
As mentioned before, I've found a cheap, reliable WiFi USB dongle using a Realtek 8188C chipset.  I sell them here for £6.99.  Alternatively the N150 WiFi dongle from Maplin also appears to work out the box.
One last thing to point out here – I first booted up an image of the latest Rasbian distro. The wireless worked straight off the bat. Might be worth trying that just to make sure you've got no other issues that might interfere here (again, details here if you get stuck).
Getting Started
Not much to do – write the image to the card, boot it up.
Wireless Configuration
Once I booted up into Raspbmc and was taken to the main menu. I started with a keyboard connected – use the arrow keys to navigate around and Enter to make a selection.
Scrolling to the right, I found the Programs menu items, under which was the Rasmbmc Settings icon – select this.
Once open, select Raspbmc Settings again.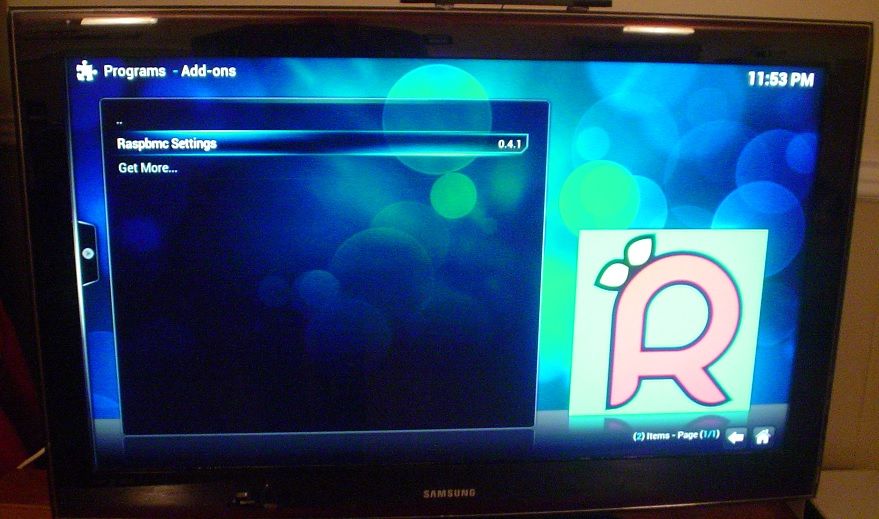 This opens up the Raspbmc Settings program, displaying the Network Configuration tab by default. You'll see from the screenshot below the Network Mode is Wired by default, with a number of other default settings.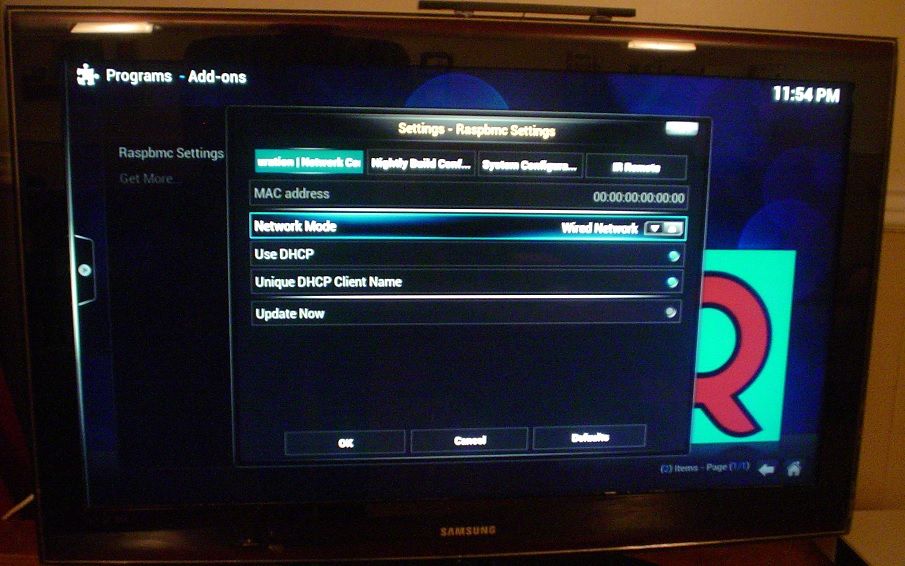 Go through each of the settings in this screen, configuring them to suit your network configuration. Change Network Mode to Wireless (WIFI) Network. I'm using DHCP so have selected that. I've entered my SSID (shamefully still stuck on linksys). I don't have encryption (I find MAC filtering secure enough) and therefore need to take out the value in WIFI KEY (now sure what this defaulted to).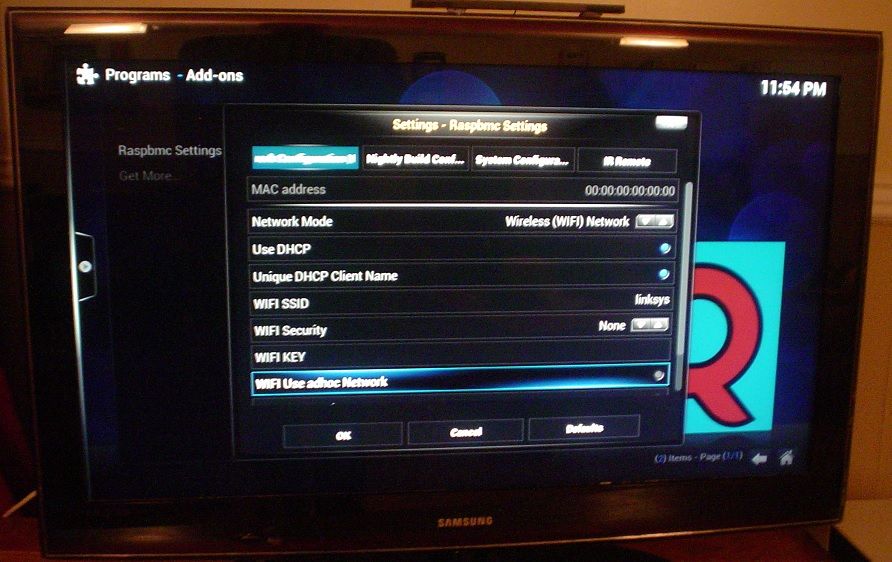 Once all that has been set, move down and select 'Update Now', and select OK. You'll be taken out of the configuration screen, see a brief message about applying the new configuration followed by a message confirming it has been successfully applied.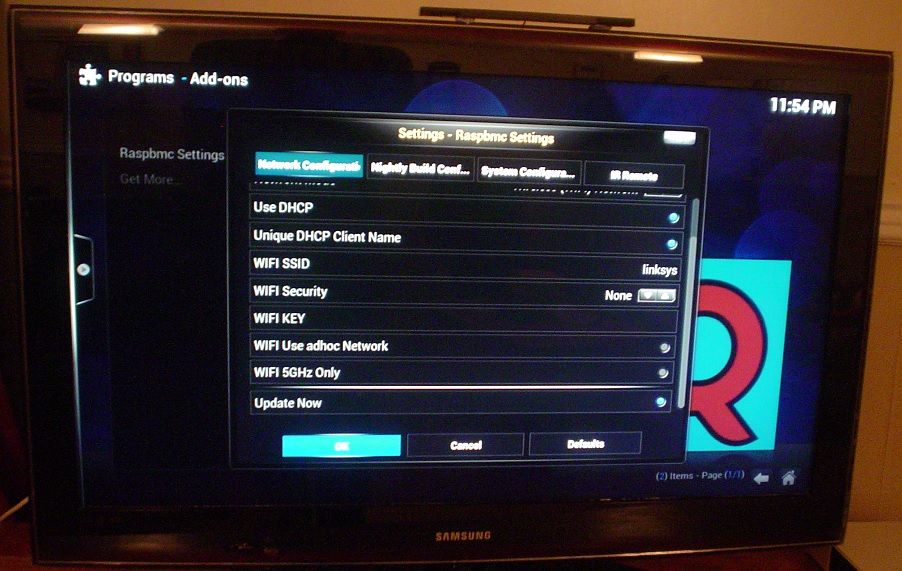 And that's pretty much it! Scroll to System on the far right and select System Info – this should display an IP Address now.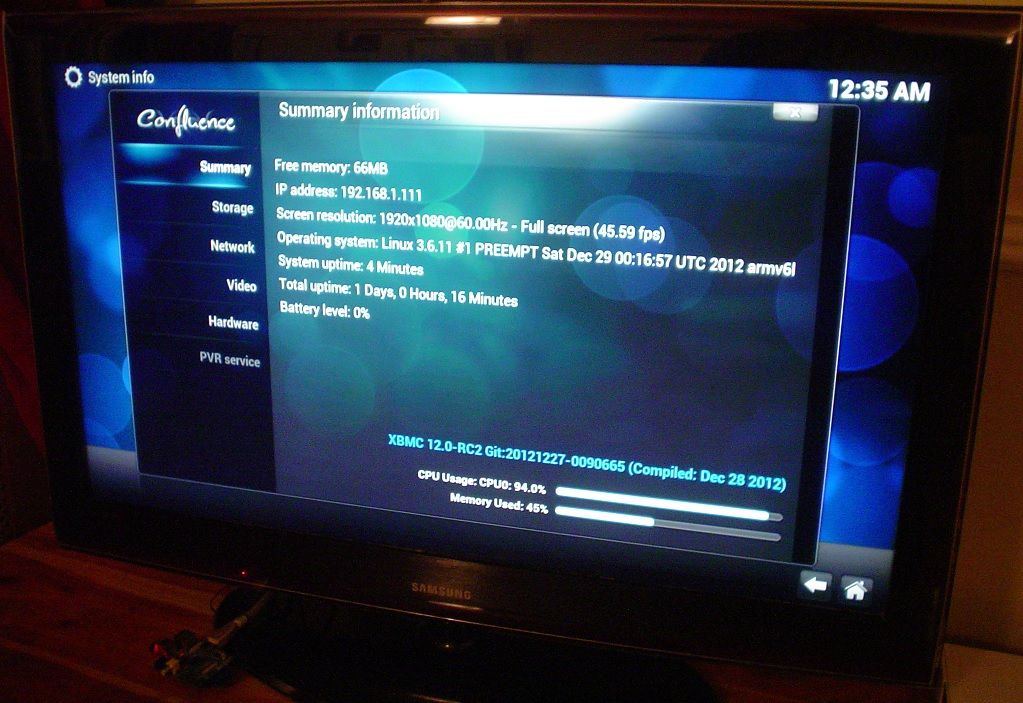 So – I hope this has helped get your wireless up and running. I've been playing around a bit and have found some really good features like my Android remote, standard TV Remote (i just works!) and setting up Libraries (SMB shrare) – I'll put these all in a new post soon.